Bank mobile application from Trans Iraq Bank
Overview
Banking services are at your fingertips with the (Trans Iraq for investment) service via mobile designed to meet your requirements at any time and from anywhere. With this service, you will be able to complete your banking transactions safely, quickly and easily.
The Trans Iraq for investment service program is available via the mobile phone in Arabic and English for iPhone®, iPad®, iPod Touch® and Android® devices. The program is also available for Apple Watch and Android Wear so that you can perform your daily banking transactions with ease through your smart devices.
Download the (trans Iraq for investment) service program via your mobile today and enjoy managing your accounts with ease and comfort through a unique world of electronic banking services.
You can use the "trans Iraq for investment" service program via the mobile on more than one device (maximum five devices).
You can also login to your account with one touch using the advanced "fingerprint" technology.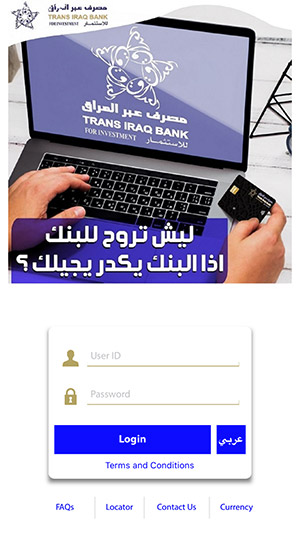 Now you can register in the (Trans Iraq for investment) service program via your mobile, and you only need to follow the following steps:
You must have a bank account from Trans Iraq Bank.
You must subscribe to the Internet banking service.
Attending the bank to submit the subscription application.
The advantages offered by the application
Enjoy transferring funds between your accounts and other accounts in Trans Iraq Bank.
View the transactions made on your account.
View your account balance and transactions made on your credit cards.
View the details of loans and deposits.
Add local beneficiaries.
View loan details in a unique way.
Locate our branches through the branch locator service.
Locate ATMs for automatic withdrawals in Iraq.
Submit a request to print an account statement.
Submit a request to issue a check book.
View the products and services of Trans Iraq Bank.
View our FAQ to get your questions answered quickly and easily.
View accounts.
Obtaining the IBAN.
Knowing the latest foreign currency rates. Learn about the latest banking services and offers.
Manage login preferences.
Amending the password for transferring between accounts.
The application is available for download through